Destination Wedding in La Paz
Becca & Garrath's Destination Wedding: A night to remember
"A night to remember" was Garrath's only request when we first met to start planning their destination wedding in La Paz.
We had only 3 months to plan an amazing wedding weekend that everyone would talk about for years to come. And, how did we do it? By designing a heart breaking romantinc ceremony, followed by photos and margarita ice cream on the beach, and an amazing party no one will ever forget!
Becca & Garrath said they wanted their wedding to be a beautiful and romantic moment. Followed by a lot of fun with the people they treasured the most.
Having friends and family coming from different places in the world, made them a little nervous. So, they made a wise decision. and they turned a traditional wedding into a fabulous, intimate destination wedding weekend!
Learn more about how to make your wedding weekends amazing. on our post: Ideal Destination Wedding Itinerary.
They chose a perfect destination for some of the most astonishing sunsets in the world: La Paz, Baja California Sur.
Located only an hour away from San Jose del Cabo International Airport. La Paz is a small town surrounded by beautiful calming waters. The Sea of Cortez, surrounds La Paz small peninsula. It is known as "The World's Aquarium" due to it's fantastic sea life diversity. This place is a MUST VISIT for nature lovers. The most astonishing orange and pink sunsets can be found here. Definitely a marvelous hidden gem of Mexico's Baja.
If you are planning to do a destination wedding in Mexico, you have to consider La Paz!
Ask your local wedding planner for the most reliable options there and live your amazing wedding surrounded by natures most precious gifts.
The Welcome Party
The weekend kicked off with a beautiful casual cocktail party with friends. "Sunsets & Drinks" was all they asked for. And La Paz gifted them with an amazing orange sunset everyone will talk about for years!
Appetizers passing by with a wine and beer open bar. Nice music to create ambience, and an incredible sunset. It was magical. They spent a wonderful night with their loved ones. Any nerves they had about the weekend, automatically dissapeared! And their wedding weekend kicked off with a fun night and a lovely sunset.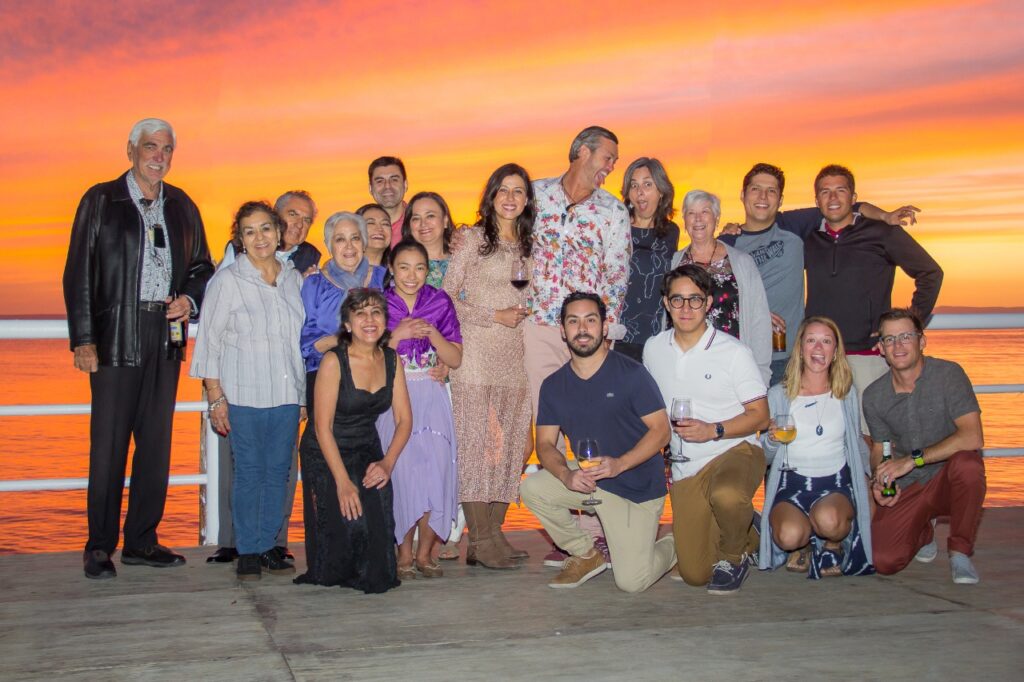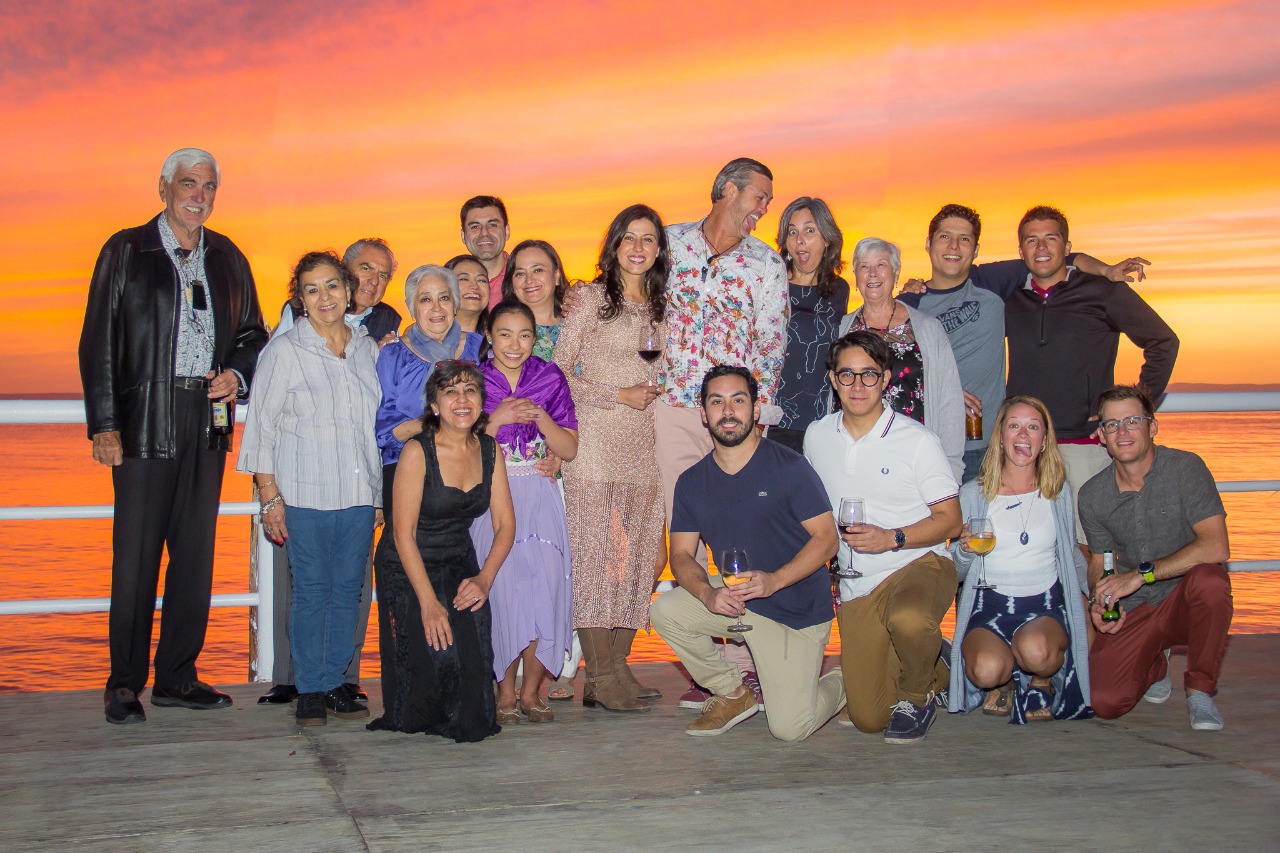 Getting Ready – Destination Wedding in La Paz
And then, before they even know it, the wedding day arrived. Becca & Garrath got ready in 2 separate beautiful villas of Costa Baja. They spent the morning with their loved ones and made some finishing touches to their wedding vows.
The bridesmaids wore flowy long dresses in coral tones. Completed with beautiful matching hair pieces created by a local artisan with a natural starfish and pearl touches. They were made as a smaller version of the bridal hairpiece.
Shining in her fancy updo, the starfish and perls gave the bride's hair an elegant touch. The lace in her dress matched her accesories.
The local artisan handmade the hairpiece, garter and feet decor, inspired by the wedding dress.
They decided to go barefoot to their beach ceremony. So the bride had some feet decor. It shined from her anckle to her toes in a beautiful knot.
Always trust local talent for your hair and makeup. They know the weather. and therefore, they can make your looks last through the evening.
Ask your local wedding planner for trust worthy reccomendations.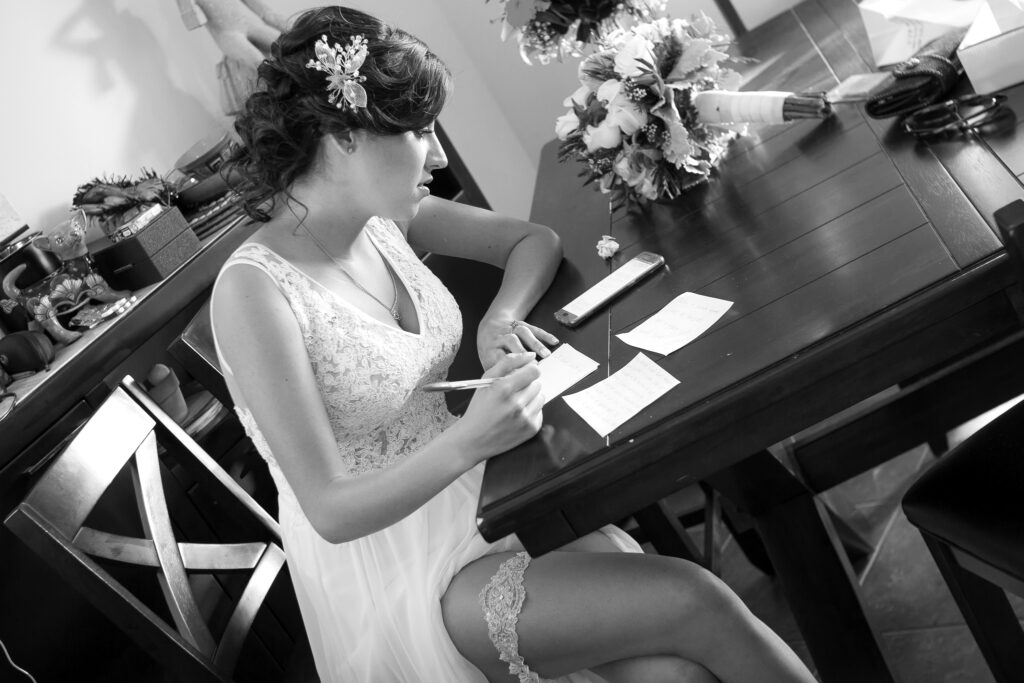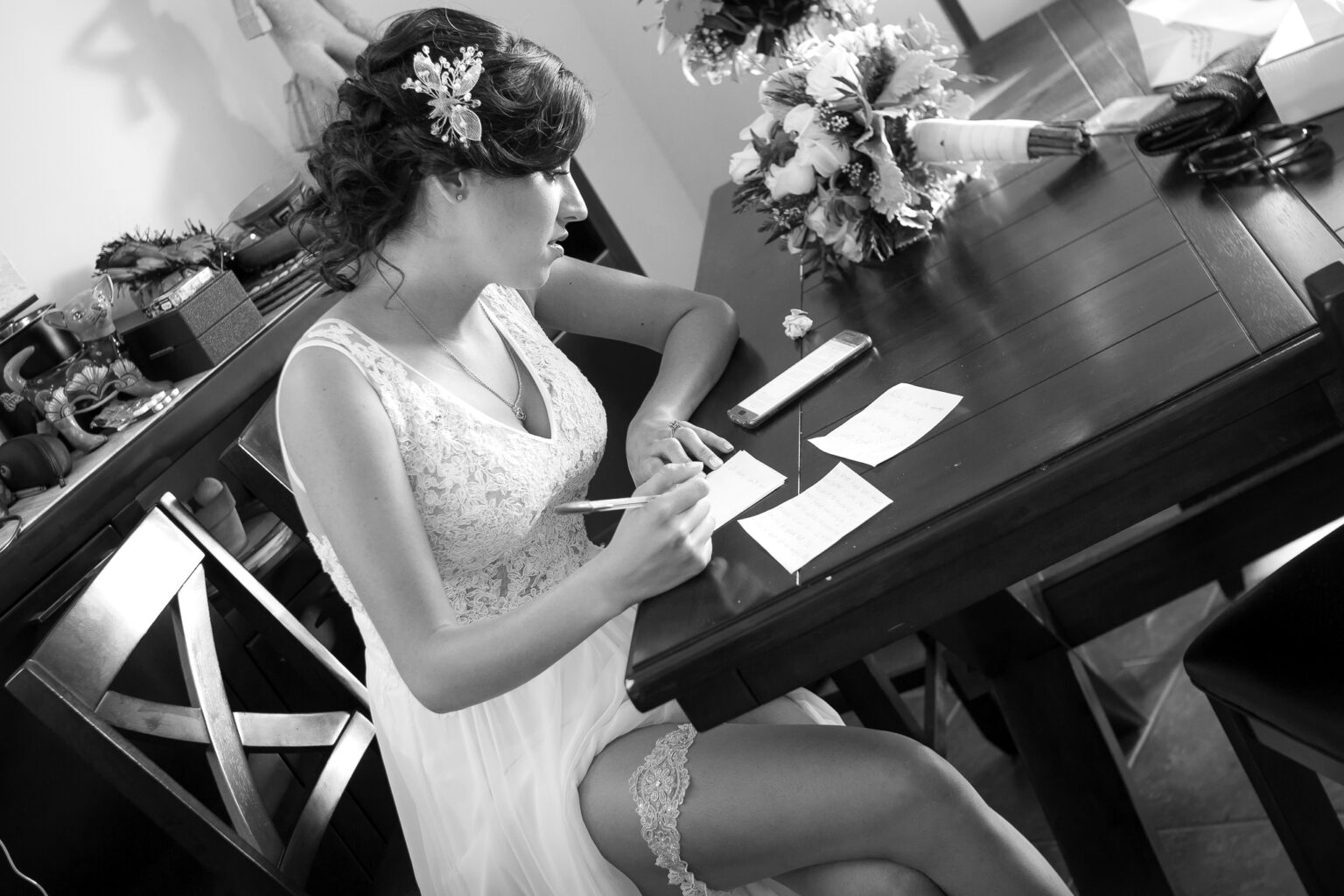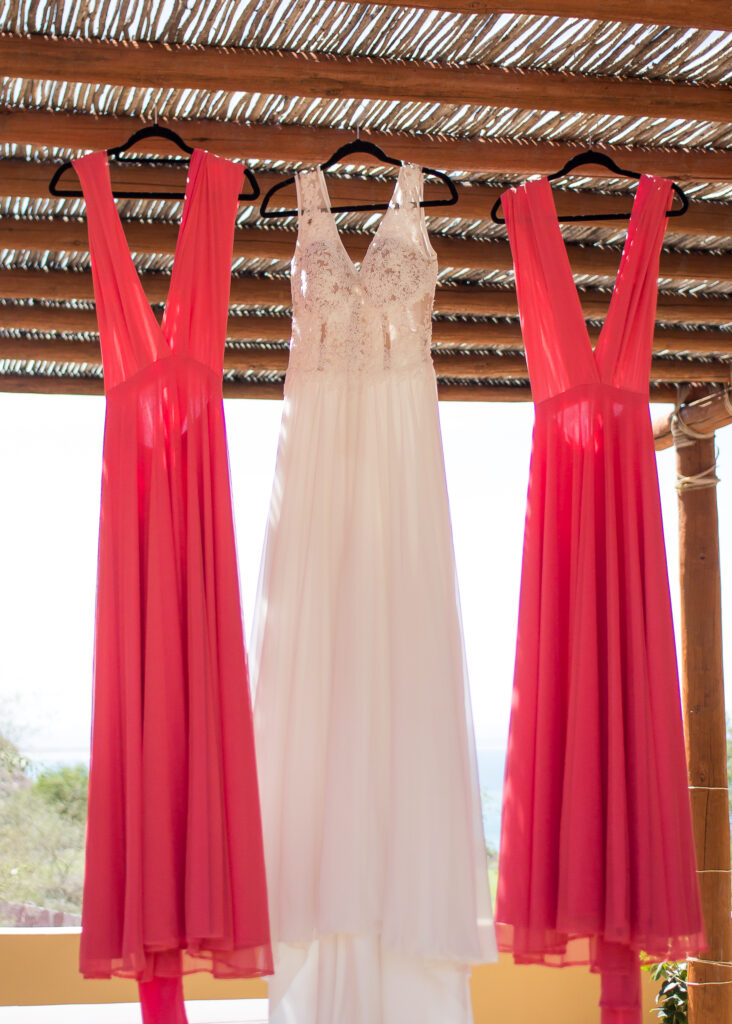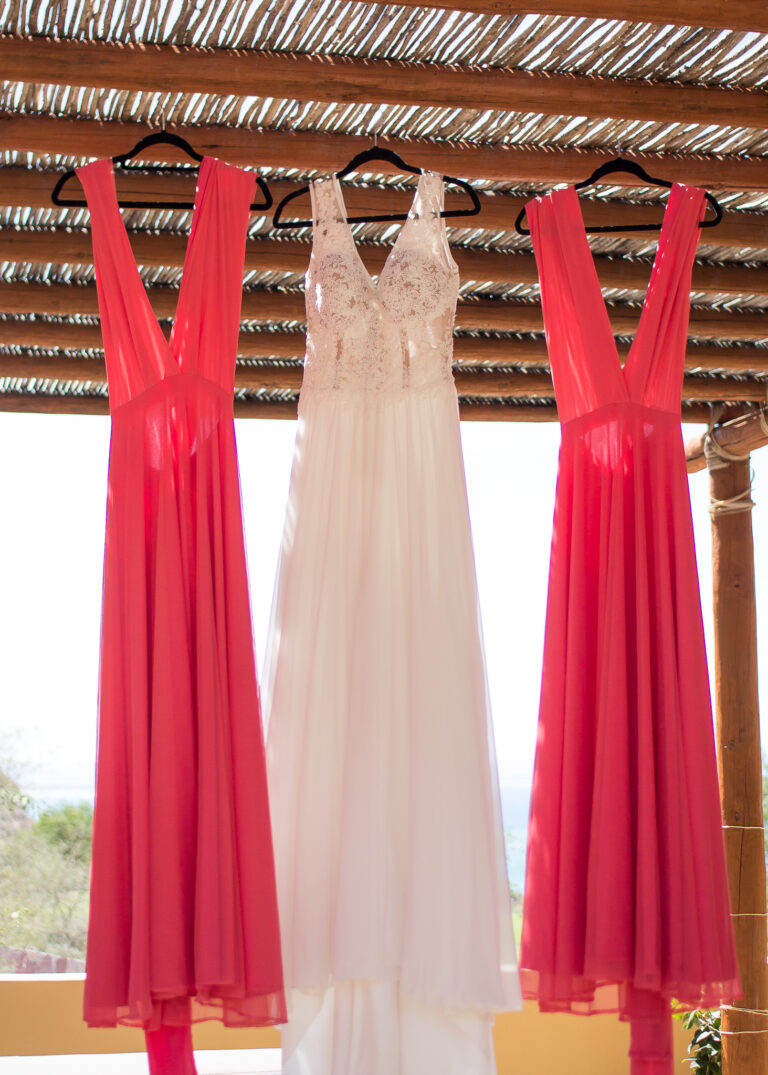 The fresh bridal bouquet and groom's boutonier, arrived.
The bride's wedding bouquet was inspired by local seasonal flowers. It included succulents, roses, lilies and dusty miller. filled with small flowers that matched the groom's boutonnier.
The boutonnier included a local starfish, completed with matching flowers.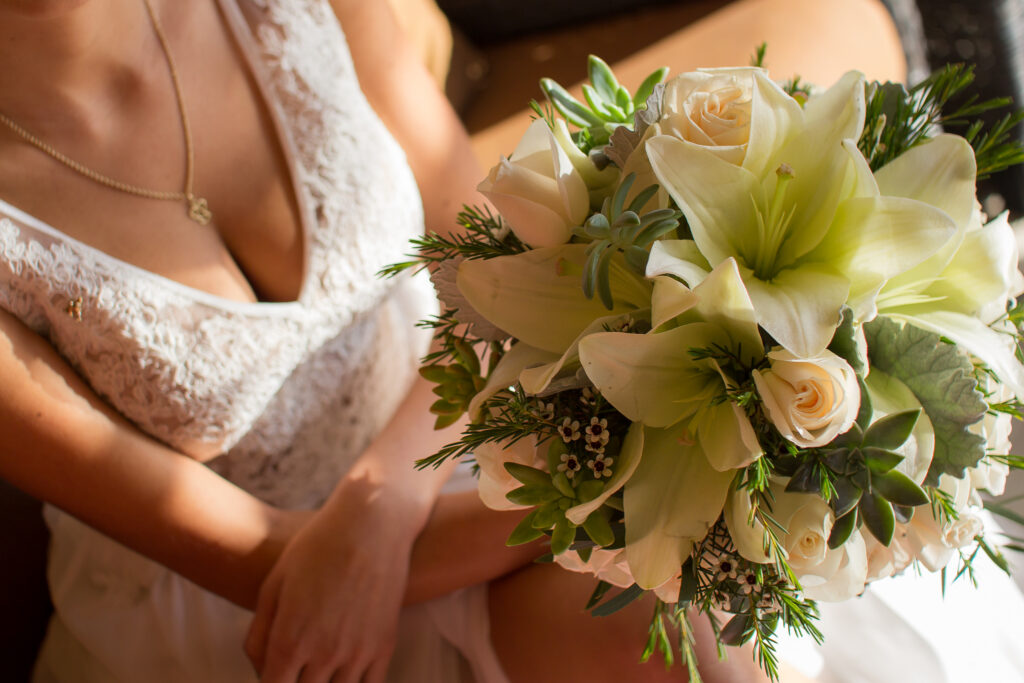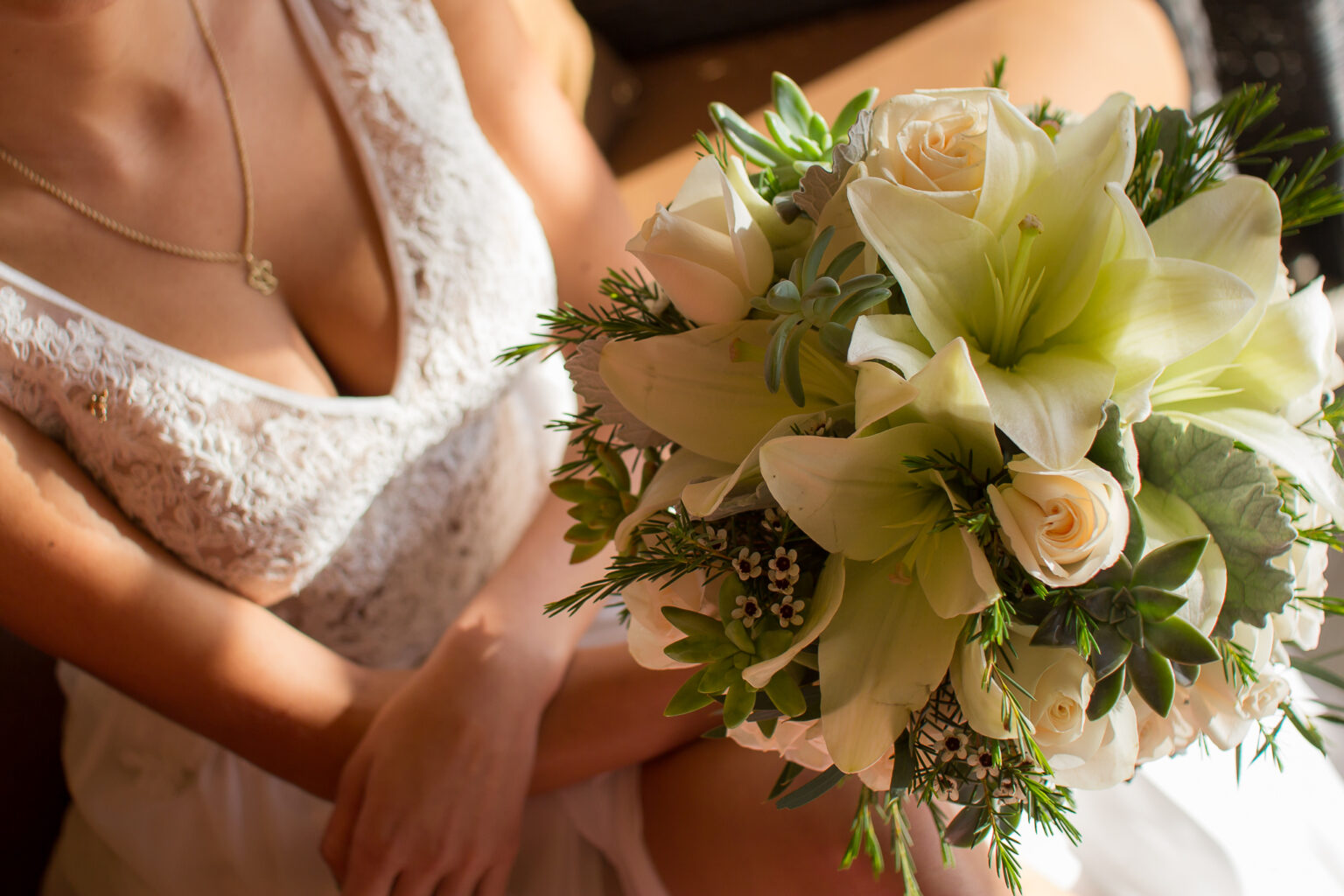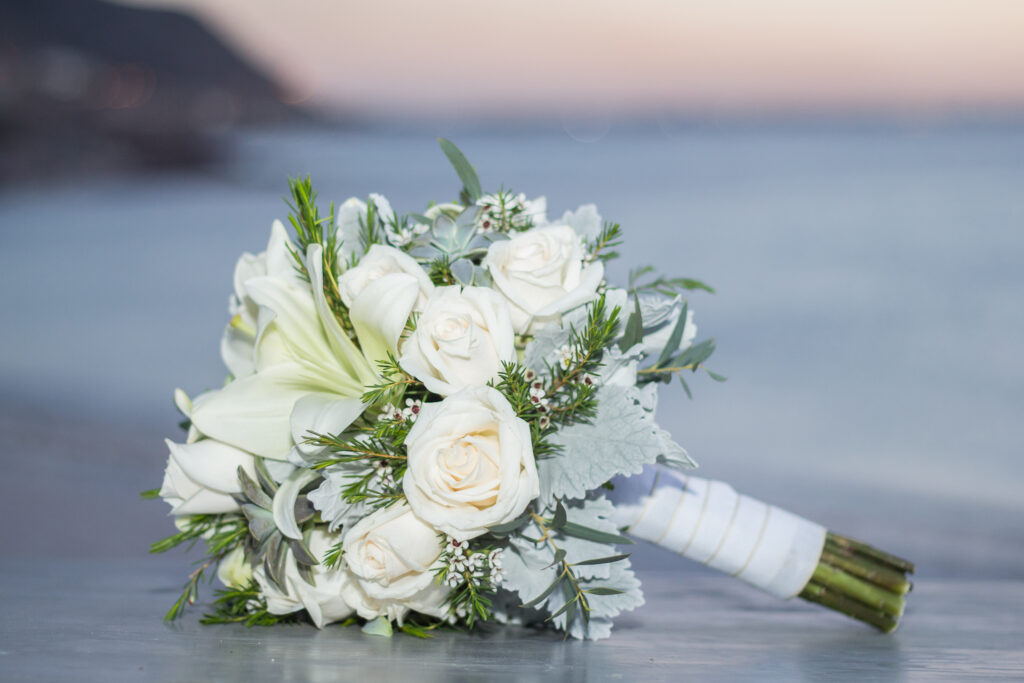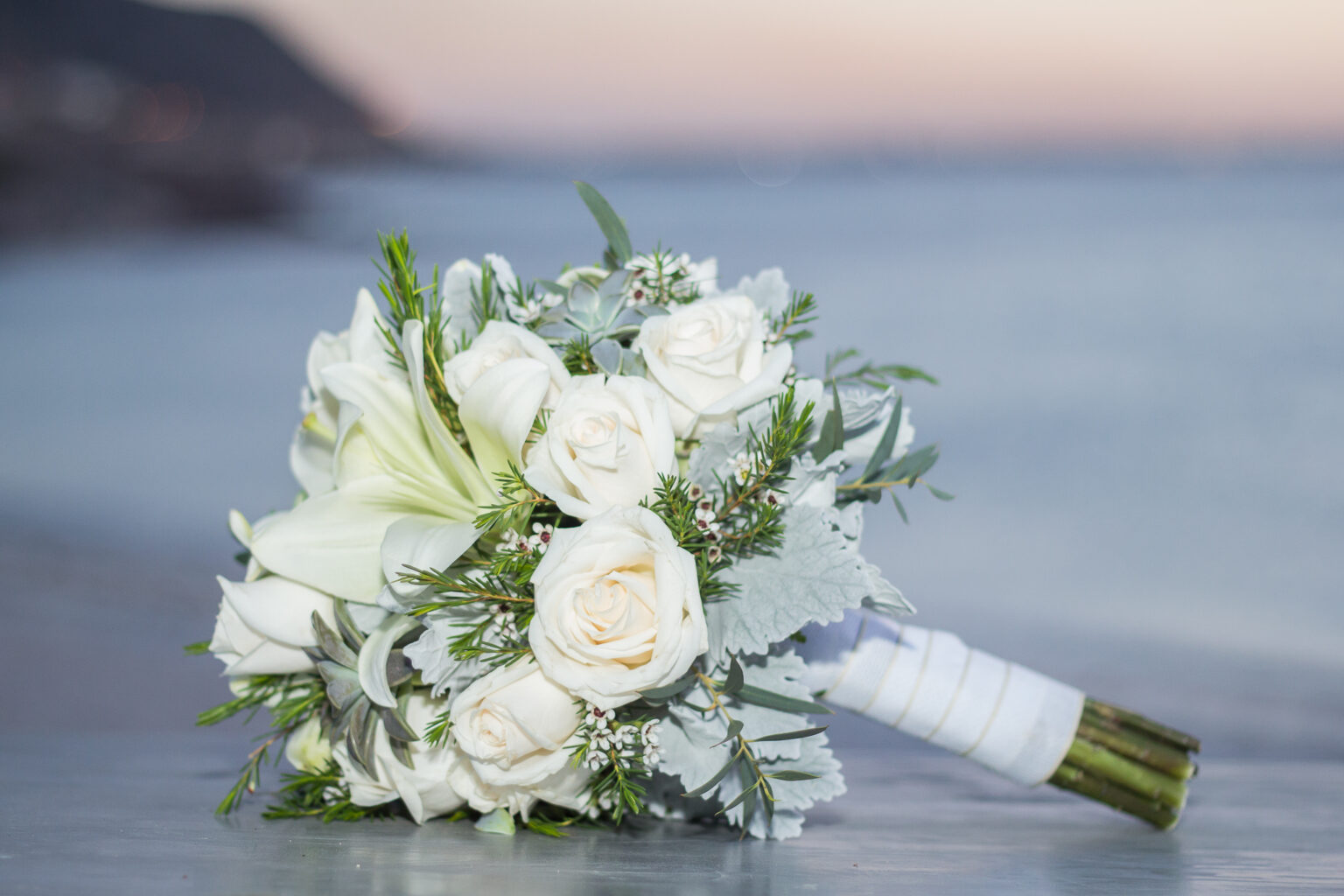 Sunset Ceremony – Destination Wedding in La Paz
Their sunset ceremony was celebrated by a close friend of theirs. He made it personal, funny, romantic and very special for everyone watching!
Local Starfishes hanged from the chairs to decorate the aisle. Every guest received a coral cone filled with petals to celebrate the bride and groom as they departed.
Her amazing bridesmaid Paula made sure the bride did not forget her bouquet as they walked out the ceremony! A rain of white rose petals fall and everyone smiled and laughed around them.
Some amazing photos were taken with a lovely pink sunset as background. The calm waters of the Sea of Cortez and a fun sign that read LOVE on the sand.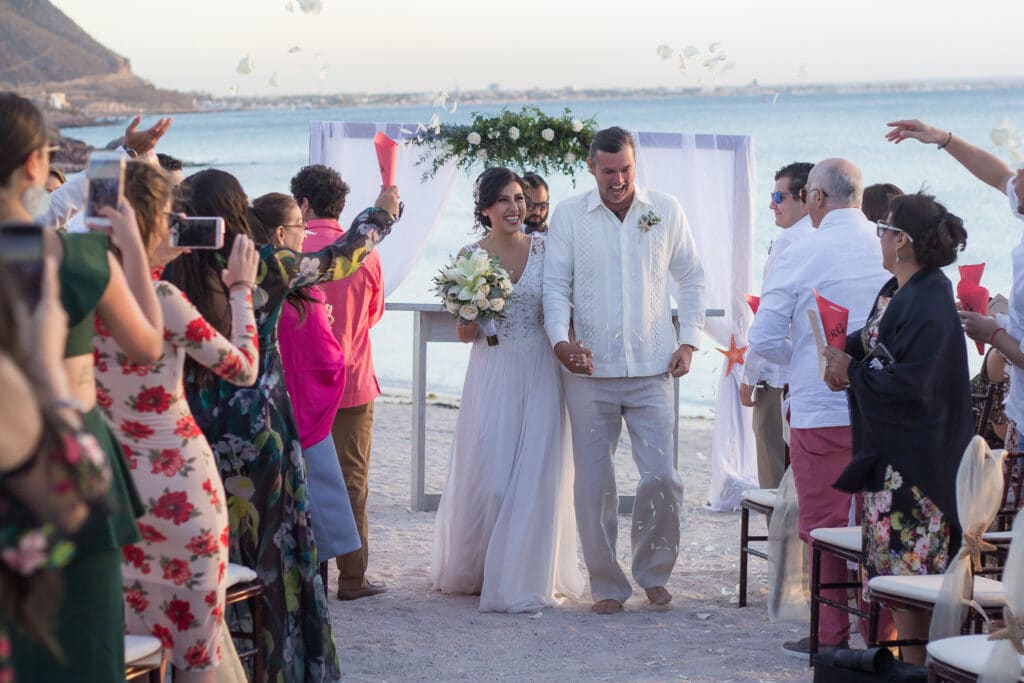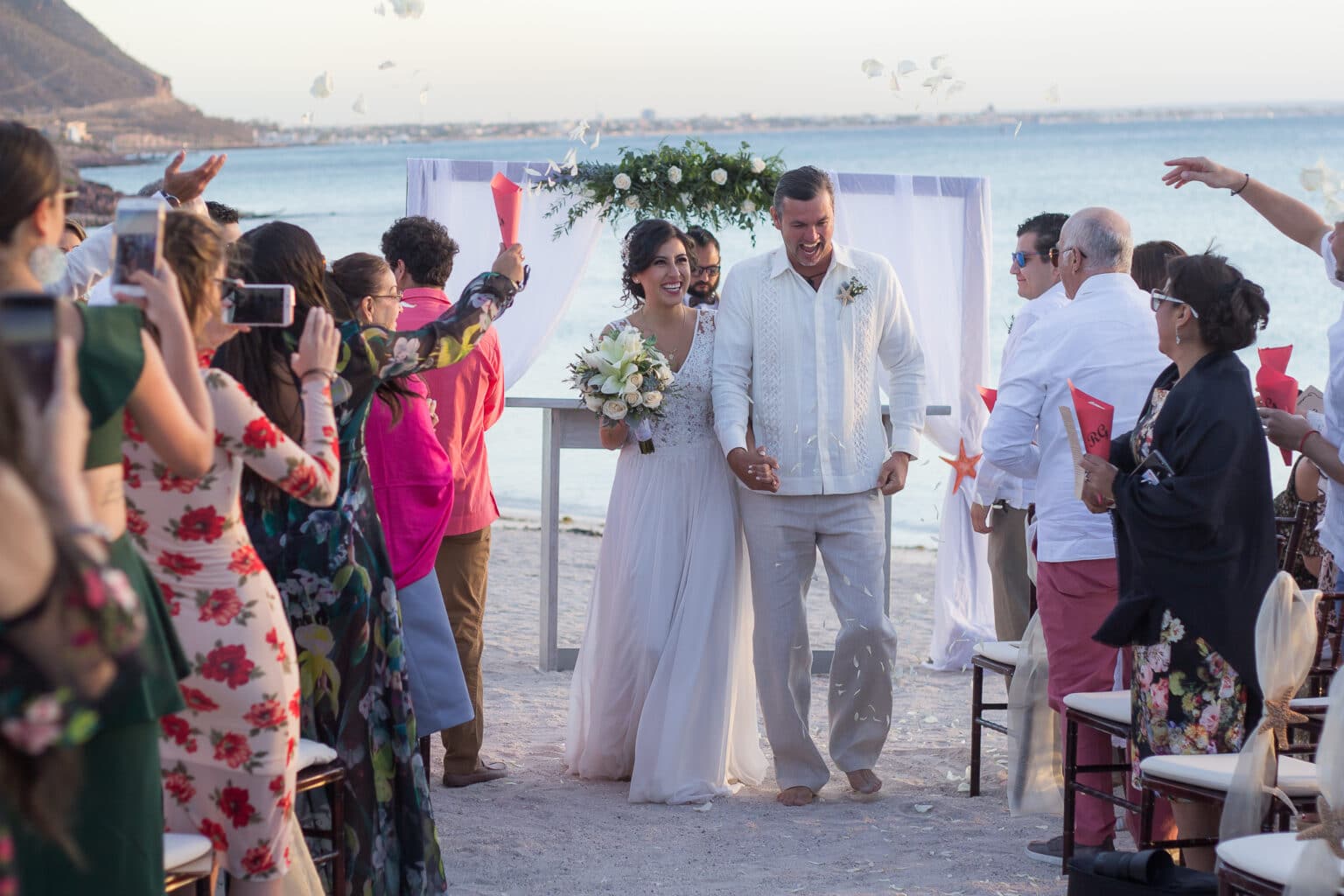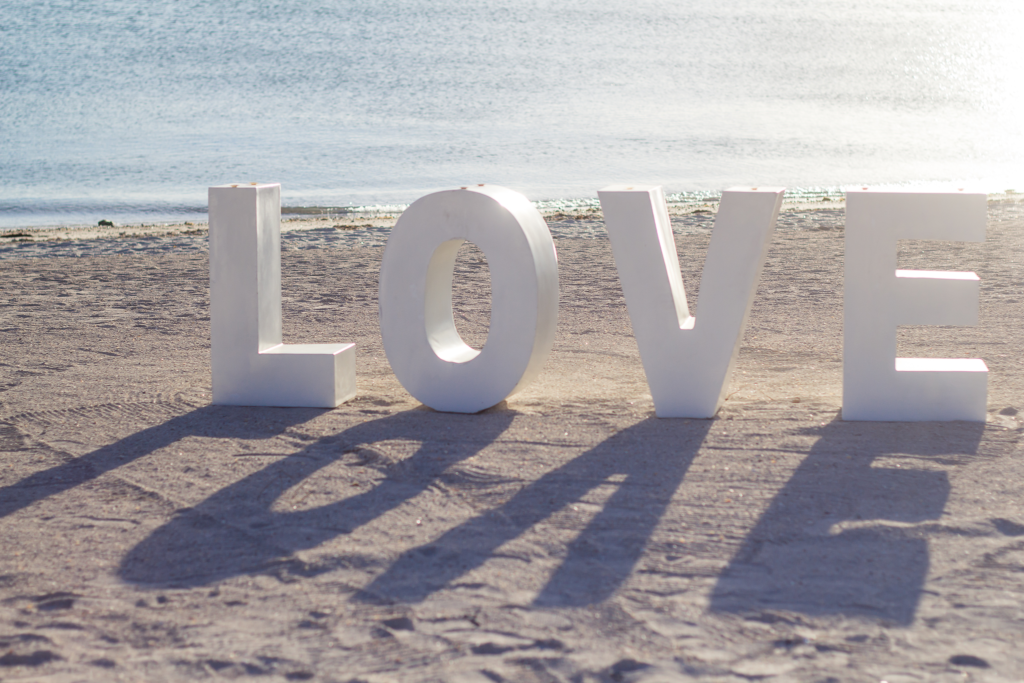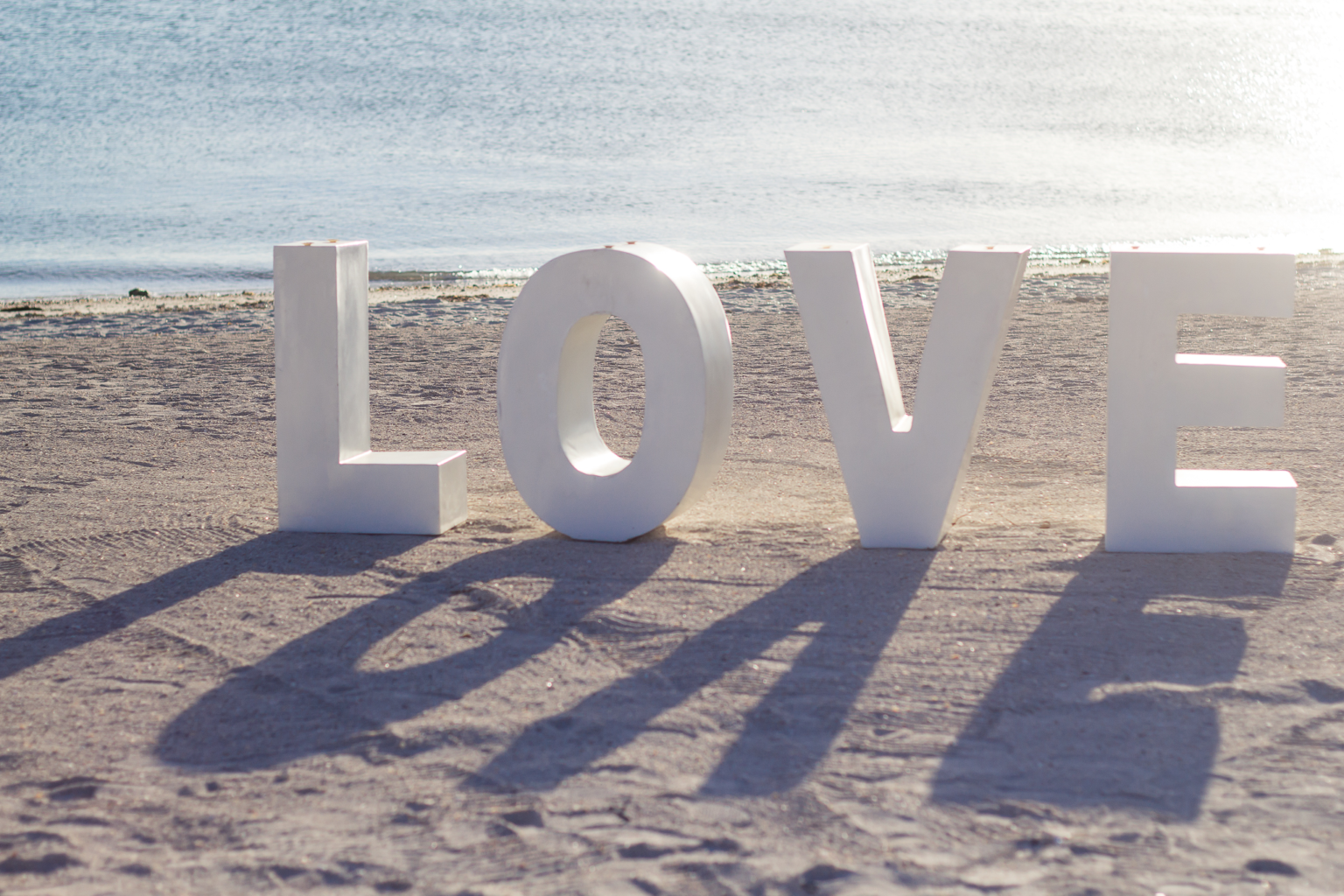 As they walked into the reception, the guests found their seats and a lovely gift from the bride and groom: Fun metal flip flop openers!
Personalized with te bride and groom's names and wedding date, to keep on everyone's fridges and remember this amazing night!
In addition, every guest also inked their fingerprint into a gorgeous handmade draw of a leafless tree.
The tree got filled with everyones love and care, setting their fingerprints as leafs in the tree. They went for autum colors which created a beautiful, original effect.
Today, the tree hangs on Becca & Garrath's home. It decorates their living room with a loving memory of their friends and family.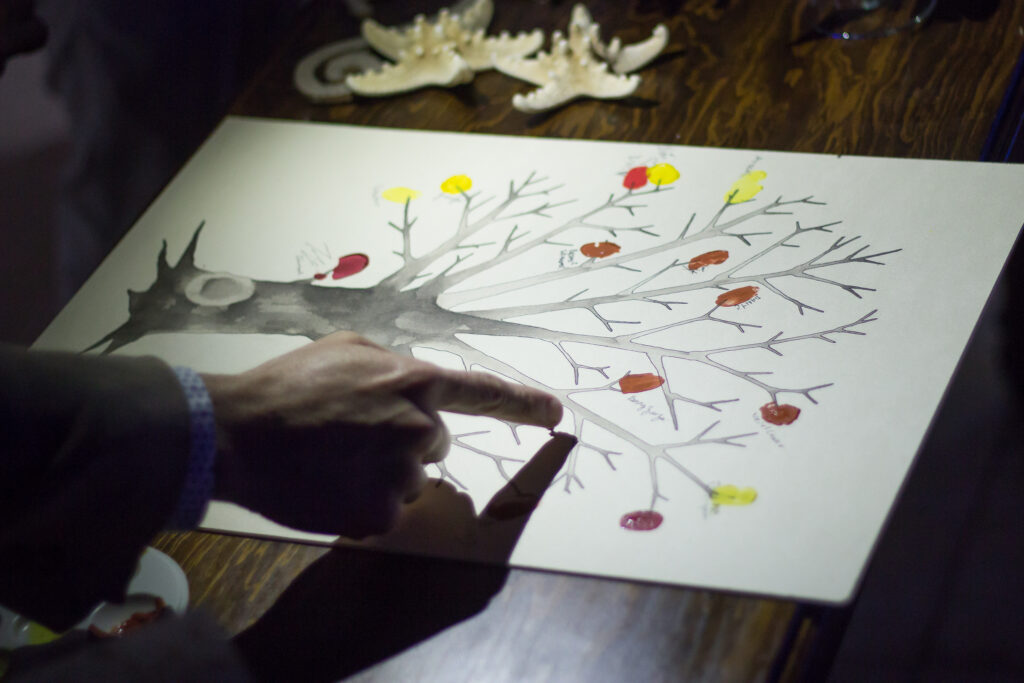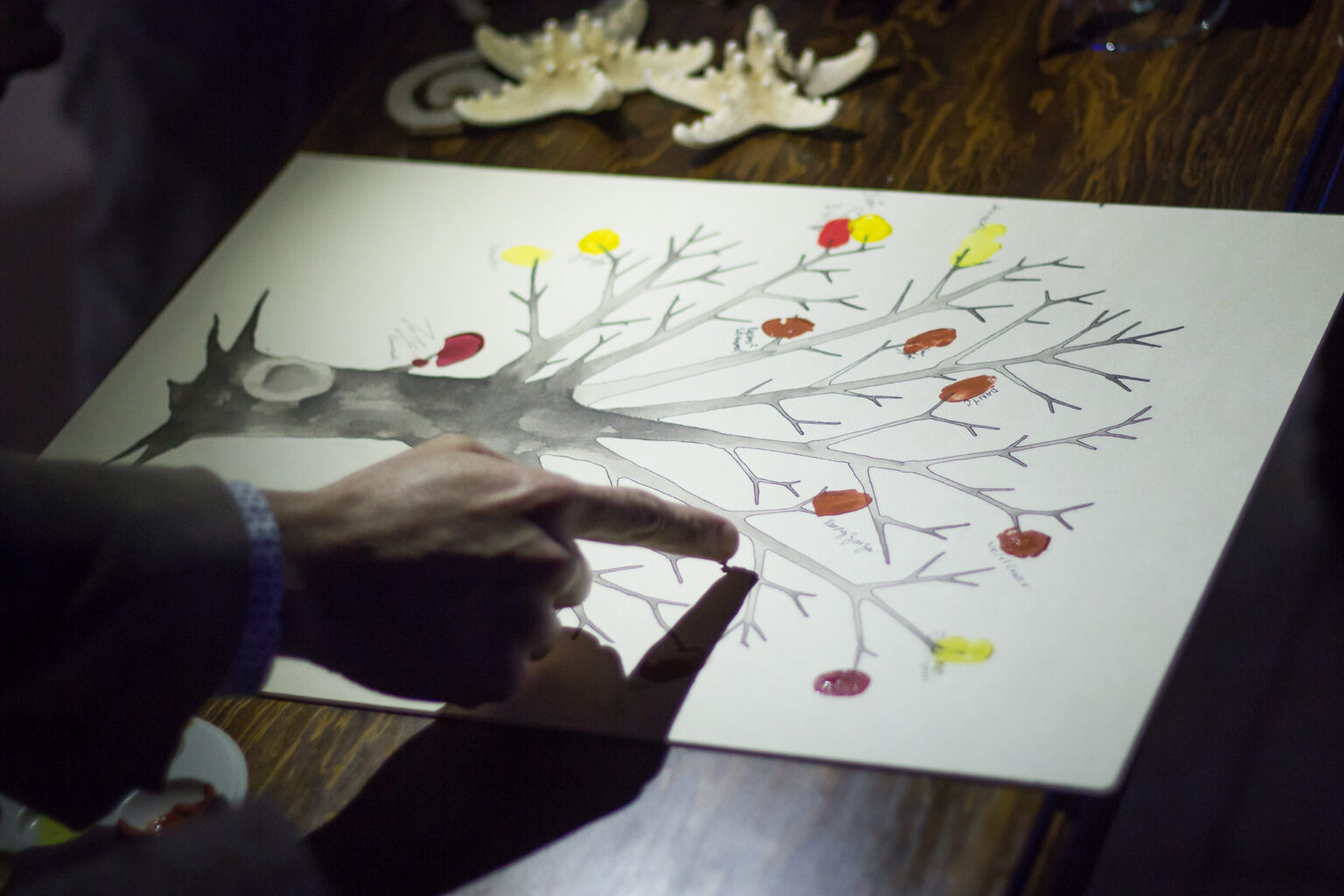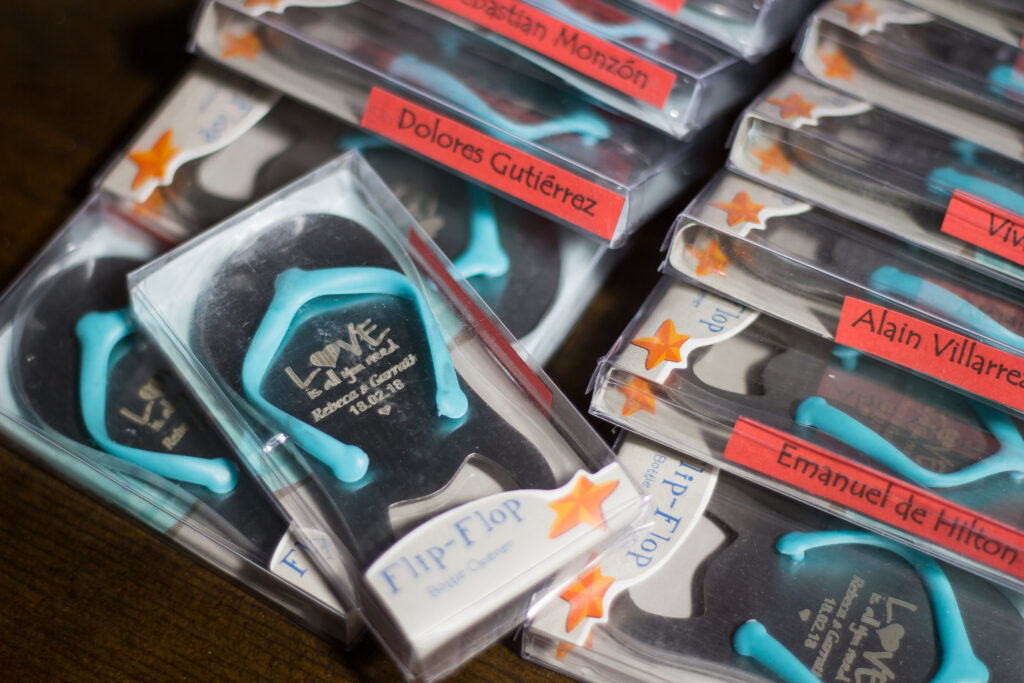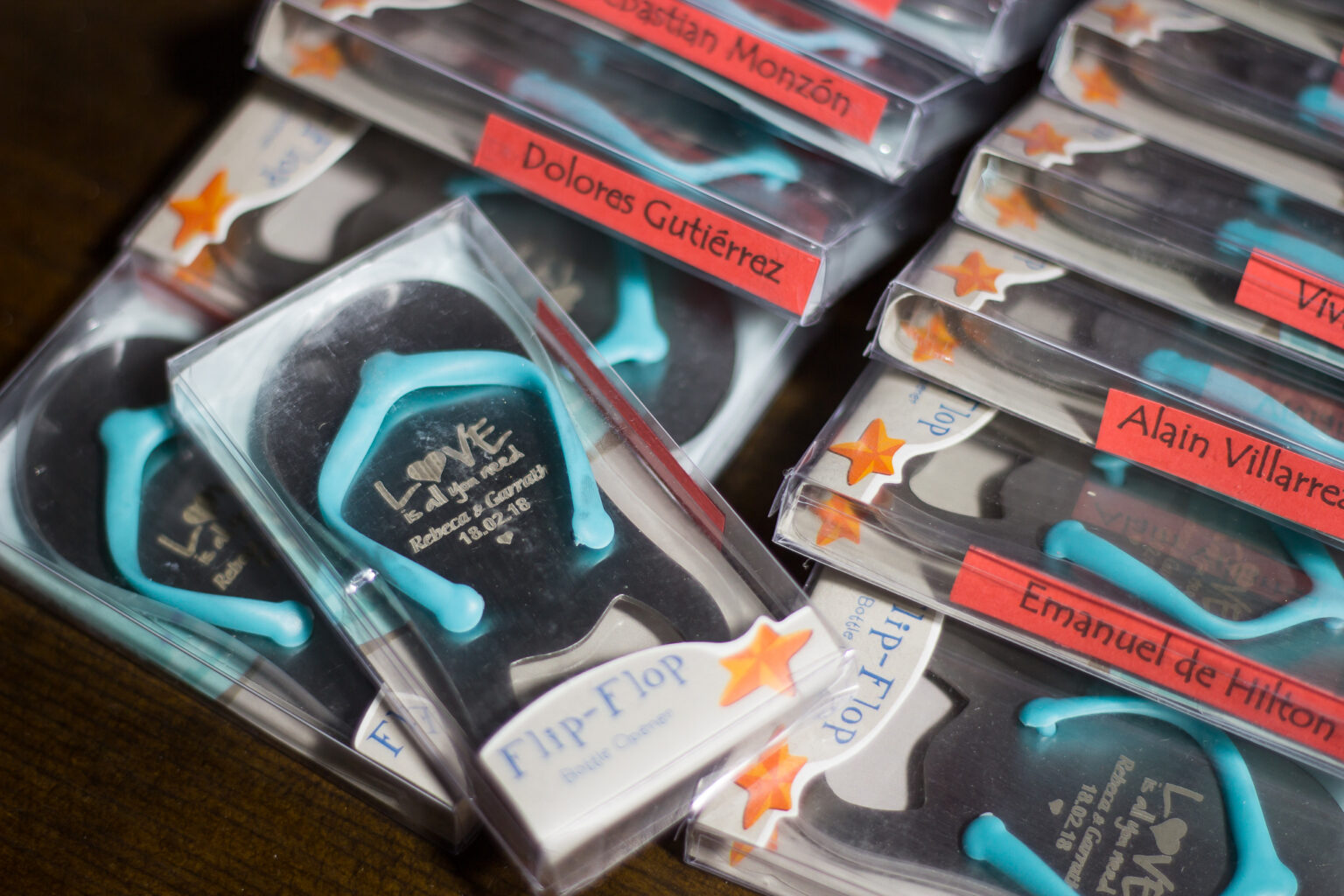 Destination Wedding Decor: Starfish and Candles
Starfishes decorated different spots. All the way from the ceremony to the reception. For example. Gorgeous bases shined bright on the tables, lit up with nothing but candles.
Carefully set seashells, decorated the tables. You could see sand, starfishes and ocean details all around.
Gold, white and sand colors fusioned with the wood tables. Chocolate chairs completed the design. along with some impressinve LED lighting.
It all together gave this reception the mood and ambience the bride and groom were looking for.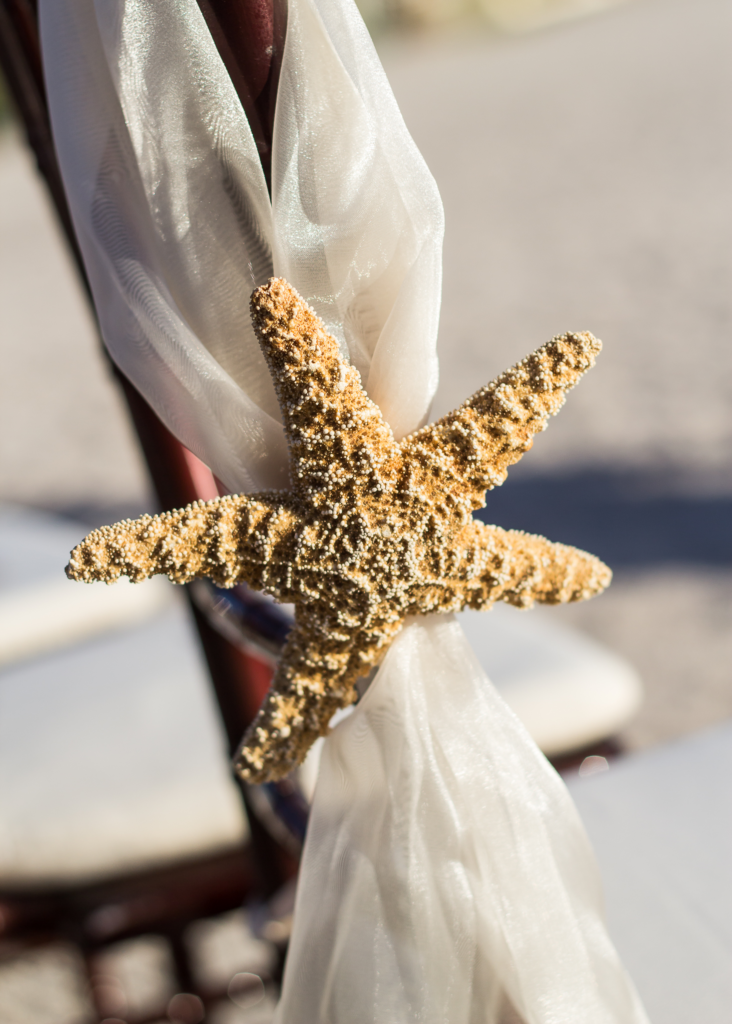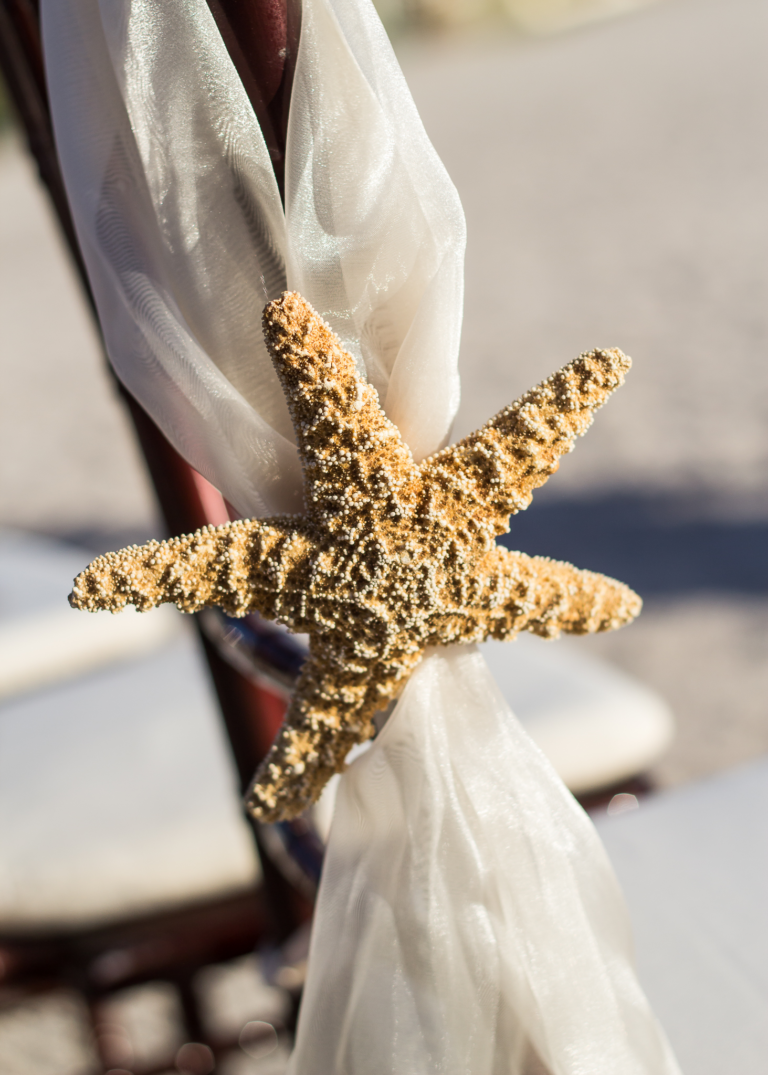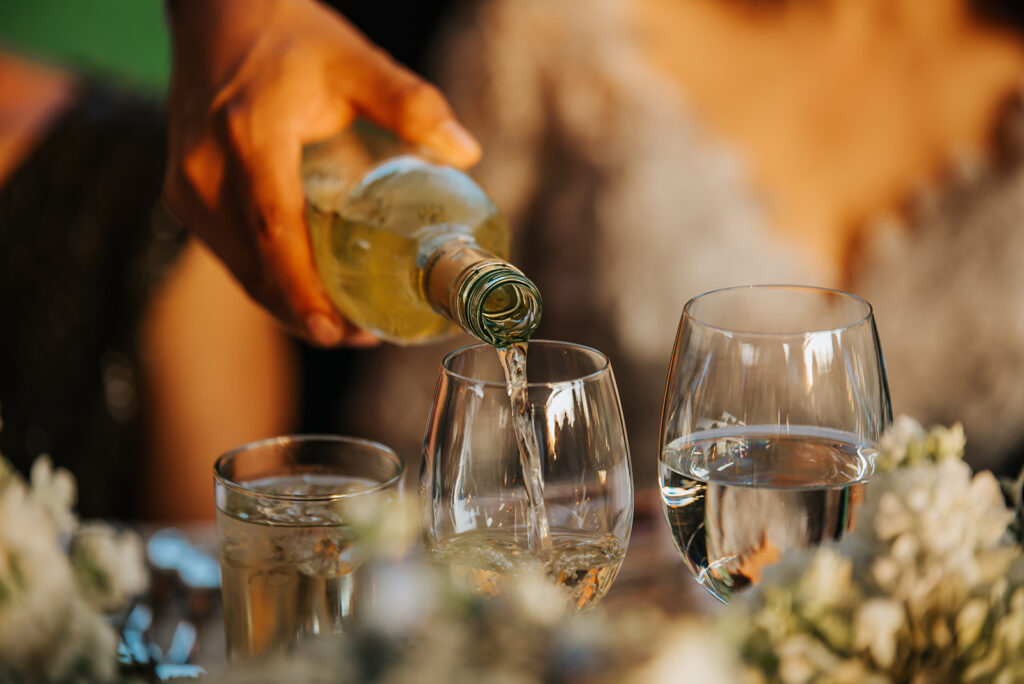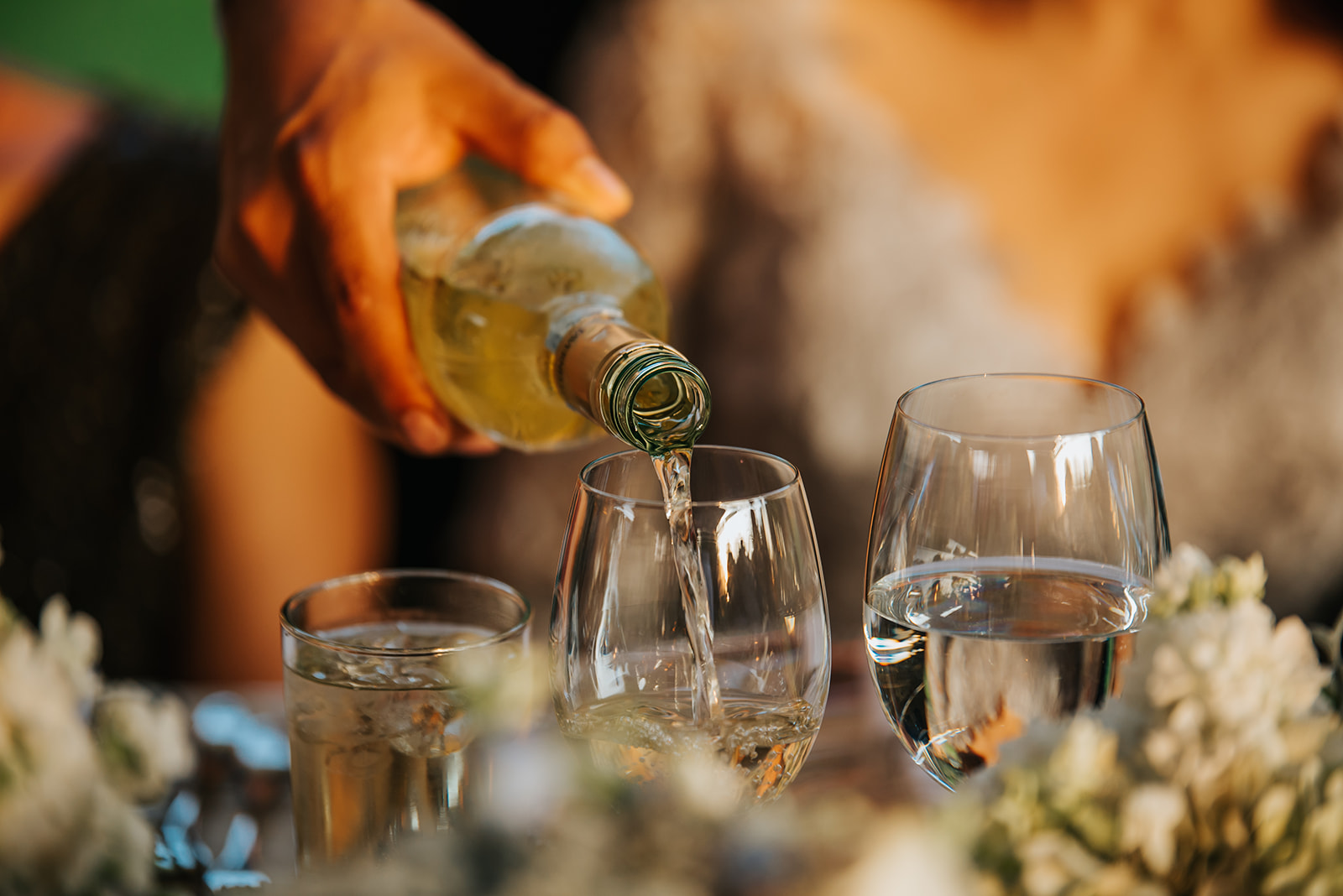 A night to remember!
After a wonderful dinner offered by Costa Baja's greatest Chef, speaches happened. – including an original rap sanged by the bridesmaids. They cut the cake and an amazing party started!
The music was flawless. Everyone had a great time playing with the props and hats that were passed constantly by the amazing planners.
A beautiful dessert table gave everyone something to talk about. Everyone kept enjoying as the hours passed by. And by the time the mariachis came, everyone had already left their lifes on the dancefloor.
The night finished with everyone singing to the mariachis music. During this time, there was even an unexpected dancing show, that had everyone laughing and talking the following day.
There were so many gorgeous, fun and amazing details all over this wedding weekend. All created with love and passion by an amazing team.
There is no doubt this was absolutely a night to remember!