YOUR BEACH WEDDING, LA PAZ
Beautiful Beach Destination Wedding in La Paz, Mexico
When Wendy and Robert started talking about their wedding, they decided right away to have a Beach destination wedding ceremony! Now the question was, where?
At this point they had not even considered La Paz for their beach wedding.
They were looking for a very special place. Something beautiful, with swimmable beaches. It had to have easy acces, since they were expecting guests from London, The States and Mexico. And also they wanted a place that offered the same desert-meets-ocean concept you can find in Cabo.
On the other hand, they wanted a not so crowded location. Someplace where their friends and family could enjoy swimming on a calmed ocean…. tough huh? Not really! When you know Baja, La Paz is automatically the place that comes to mind!
La Paz, Baja California Sur, México
A beautiful hidden place in Mexico. Impressive desertic views, clam waters and wide sealife diversity. Nature related activities are the biggest turistic atraction here! People who live there have a deep conection with nature. And they protect and feel proud of the natural wonders that La Paz has to offer.
Sunsets in La Paz offer a big spectacle every evening. And with it's dessertic weather, chances of rain are very low during most of the year. Which makes it a wonderful option for destination weddings!
It is an absolute paradise for scuba divers and those who love snorkeling. The wild sealife is one of the most diverse and beautiful in the world.
La Paz is the prefered place in the world of the massive whale shark. They come every year to spend the winter in the calm warm waters of the Sea of Cortez.
.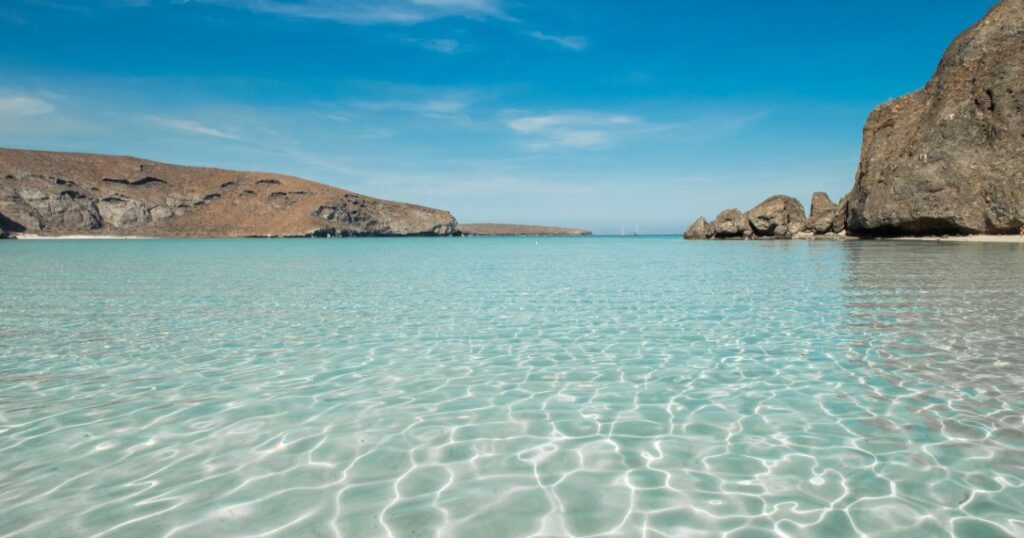 Your beach wedding in La Paz
If you are planning for a destination wedding in Mexico, you have to consider La Paz!
Located only one hour away from San Jose del Cabo International Airport, La Paz is a small town near Cabo that offers the same amazing weather – low probability of rains during most of the year – similar rocky landscapings and the most amazing sunsets you have ever seen!
Colors like orange, pink, yellow and purple paint the sky every evening and give a natural spectacle for anyone watching.
"So… What is the catch?" you may wonder. Well, since La Paz is not so famous among the destination weddings industry, the weddings oriented offer is not as wide as it is in Los Cabos.
So, hiring a local wedding planner is highly reccomended. Finding the right person to have on your team for your wedding, will make a big difference.
You will need someone who knows the whos and wheres, that are up to the standards of a wonderful wedding you will never forget!
Get in touch with Baja Love Weddings – they can orient you on venues, accomodations, music, decorations, food, drinks… everything you need to have the most amazing wedding in this magic place.
Wendy & Robert's Sunset Beach Ceremony
La Paz sunsets are so amazing, that Wendy & Robert decided to have their wedding ceremony during the most precious minutes of the sunset to finalize their ceremony as Mr & Mrs under the shiny stars of La Paz's clear sky.
They got ready in one of the most beautiful houses of Costa Baja Las Colinas, where they enjoyed a lovely morning with their family and firends.
Then, they celebrated a romantic ceremony on the beach and left to a lovely garden for a party that lasted until sunrise.
See a few photos of what your beach destination wedding can look like in this amazing, soon to be exploited place in Mexico.
Before you leave: Take a look at Becca & Garrath's beach wedding in La Paz to see a wedding during day time – See how big of a difference the time of your ceremony can make, and make the best out of those sunset minutes!